Read Our Reviews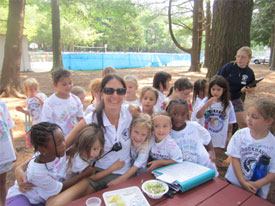 WHAT PARENTS SAY ABOUT BROOKHAVEN COUNTRY DAY CAMP
Just wanted to thank you for making Nancy Lynn's summer so enjoyable. All her counselors were terrific. This was our first experience with your wonderful camp. Can't wait for next summer!
Well another successful camp session has come to an end. Again, I would like to thank you and your staff for making my niece's camp experience so enjoyable. Everyone affiliated with the camp does their best for the kids and it really shows in their attitudes. I look forward to enrolling her again next year.
I want to thank you for giving Jasmine the opportunity to have a most joyous time this summer. She loved your camp and special thanks to your counselors who Jasmine always talks about and has come to love.
We would like to take this time to tell you what a great experience it has been for our three boys to be at your camp this year. Not only is it clean and efficiently run,/ but the personnel are upbeat and congenial to all. The activities are well thought out and prepared. While other parents (who signed up at other camps) voice their share of gripes, we are able to relay positive, fun-filled stories. We received exactly the type of camp experience we paid for and will see you next year. Thank you all for giving us a rewarding and enriched summer of good memories.
It's been several years since I attended Brookhaven. Even though I remember my counselors and friends, until this summer I didn't realize the truth in your motto "We are family". The B5 group, including the group leader and counselor, as well as Bernie helped my brother through what is perhaps the most difficult thing that a child can go through. I thank you for everything that you have done for my brother.
I just wanted to drop you a line telling you how happy we were with "Camp" this year. Daniel had a great time and has turned into your basic camper. What I mean is that he is doing and saying things that I remember doing and saying as a camper. We also saw much growth this summer. He is swimming better, he has become more independent and is eating better. He has a full day and it shows!! When he gets home he can barely keep his eyes open, yet he can't wait for the camp bus the next morning. Enjoy the rest of the summer and have a good school year. We will be looking forward to "Camp" next year.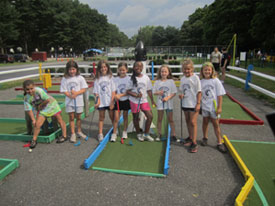 I'd like to say thank you for making the summer a very enjoyable, fun-filled and rewarding camp experience for our son Darren. He so enjoyed it very much. He was particularly fond of his counselor. Everyday seemed to be a learning experience for him as well as with the wide variety of activities offered. He's looking forward to another great summer at camp.
Thank you for providing such a safe and secure environment for our kids and for the peace of mind you give to the parents. Dana loves BCDC!! She comes home full of laughter and stories everyday!! All of the counselors and instructors are very encouraging and Dana has learned a lot from them. My husband and I have told so many other parents about BCDC and I know for a fact that 3 of those people enrolled their daughters this year!! Keep up the good work and we will keep spreading the word. "We are your #1 fans!!!"